Su-Kam has introduced a truly innovative inverter model 'Falcon Plus' in the market ( though I hate this marketing kind of words in a product review, I just can't avoid the word 'innovative' in this review, Yes, it is truly innovative)
When we took this product for testing and comparing it with other best-selling inverter models in the market, we were surprised to see the results and other special features of sukam Falcon Plus.
Sukam has already got a product called 'Falcon' Home UPS, which is doing well in the market. But this one 'Falcon Plus' is pretty much advanced than its predecessor.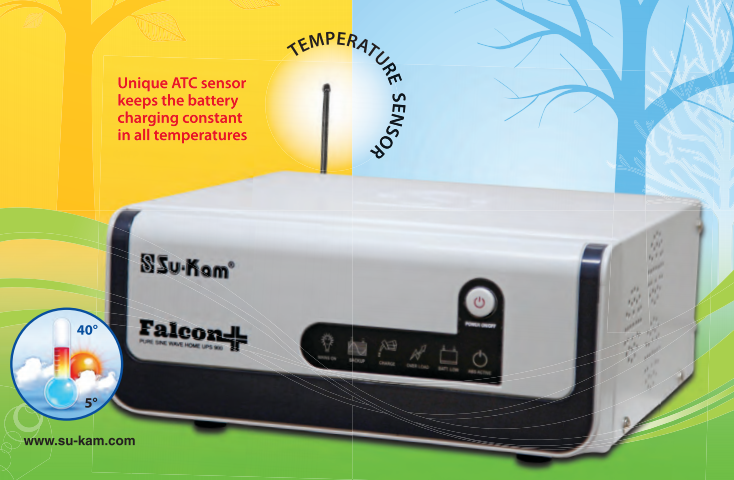 This is going to be a long post; those want to read insights about Falcon Plus can continue 🙂
# Falcon Plus – Range
Su-Kam Falcon Plus Pure sinewave Inverter is available in following range
Falcon Plus 700 VA – single battery inverter

Falcon Plus 900 VA- single battery inverter

Falcon Plus 1100 VA – single battery inverter

Falcon Plus 1600 VA – Double battery inverter

(Note: Sukam Falcon Plus 1050 VA  (Old Version) is also available in the market. Su-kam has upgraded this model to 1100 VA and the 1050 VA model has no Battery charge selection DIP switch.)
# Su-Kam Falcon Plus – Test Results
Actually we don't care about, what the company claims about the product, in its product manual. We want to test it out.
We compared Sukam Falcon Plus with Luminous Zelio, Luminous Eco Volt and Microtek Pure sine wave inverter models with a highly sophisticated testing device.
Results clearly indicated some solid difference between other pure sine wave inverters and sukam Falcon Plus. We list some important points here,
Advanced Battery charging Technology

Battery life enhancement

Deep discharge Protection

Appliance Safety features

Compatibility with all size batteries (18 Ah to 200 Ah)

High quality internal components

Big Difference in back-up

Highly compatible for Solar
# Why choose Falcon Plus?
Advanced Battery charging technology
Whether you go high budget or low budget battery for your inverter, we would recommend Su-kam Falcon Plus for better battery management and battery life enhancement.
[pullquote]In our observation, with Falcon Plus, we could expect extra battery life from 6 months to 1 year for a normal deep cycle inverter battery.[/pullquote]
# How Falcon Plus enhances the battery life?
Falcon Plus senses the battery outside temperature and adjusts the Boost Voltage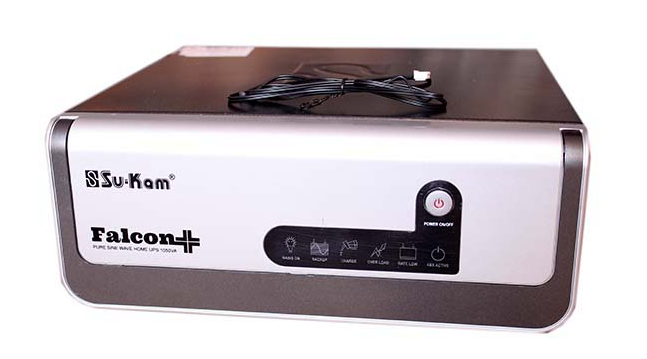 Falcon Plus uses Automatic temperature compensation (ATC)
Unlike other inverters in the market, Falcon Plus has a temperature sensor cable which comes with the inverter package. We need to connect the sensor cable to the back panel of inverter and place the other end of the cable close to your battery. In this way Falcon Plus senses the outside temperature precisely.
Most of the people in this industry are aware of the truth that a deep cycle battery will perform well under 25 degree Celsius. But unfortunately in India we experience extremely hot weather during summer. Sometimes the temperature crosses 40 degree Celsius, which is unfavorable condition for charging an inverter battery.
In such condition we cannot pump the same high voltage in to the battery for charging. It would harm the battery permanently.
So, the inverter should adjust the boost voltage according to the outside temperature. Unfortunately most inverter in the market never does this adjustment and slowly they cause damage to your expensive tubular battery.
Just Like your Air conditioner, Falcon plus senses the temperature and adjusts the boost voltage according to that.
Thanks to 4th generation Micro Processor and ATC technology.
In our experience, we have seen many number of cases in which brand new tubular battery gets spoiled by faulty inverter which gives continuous charge to the battery during high temperature.
# Less frequent water topping
Most people don't know how to add distilled water to their inverter battery; they mostly rely on any local battery shop guys or electricians.
But sometimes, people simply forget to top-up their battery periodically which leads to premature battery failure.
To avoid this situation, better we buy a smart inverter that doesn't heat up our battery with excess charging during hot weather. Then there will be no frequent water loss.
Falcon Plus inverter's ATC technology is giving some hope and we expect this will eliminate the problem of frequent water topping the battery.
Anyway, you will need to add distilled water periodically, but the frequency will come down.
Don't forget to do that!
# Deep Discharge Protection
Deep discharge is one of the main problems we face with batteries. When we discharge a battery below 10.5 V, it is just like killing your battery. But it is your inverter's responsibility to protect your battery with setting up a perfect cut-off voltage. Failing to do this will result in permanent damage to your battery.
Almost all inverter manufacturers claim that their inverter has deep discharge protection, but how many of them are genuine? We don't know!
We tested Falcon plus inverter's ability to protect the battery from deep discharge.
And the test results were good. They are genuine!
Falcon plus comes with one more extra facility of choosing the cut-off voltage ourselves. There is a DIP switch to choose the cut-off voltage.

You could

Select 10.5 V for better backup (or)

Select 11 V for better battery life (back up will be reduced in this mode)
No other inverter model in this range has this kind of facility, one more step towards innovation, Good!
We recommend to setup 11V back-up cut for better battery life.
If you experience long and intermittent power shedding problem, you should use 10.5V backup cut setting for better battery backup.
# Soft Start Technology and Appliance Safety
This inverter is equipped with soft start technology, which slowly raises the output voltage to ensure the appliance safety.
Pretty useful facility for using sensitive electronic gadgets with inverter backup.
# Automatic Bye-pass switch
Falcon plus inverter has an automatic bye-pass switch arrangement, which is very useful in case of any battery problem of any other minor issues with battery or inverter.
We don't need to manually bye-pass the line.
# Compatible with local Generators
Company claims that Falcon plus is compatible with local generators. Most other inverters don't work with local generators.
# Better Micro Processor
We noticed one important difference that the new Falcon plus inverter is equipped with 44 pin microprocessor, which usually cannot be seen in other Home UPS systems.
Normally Home UPS systems are equipped with 28 pin micro controller with limited functionalities.
But in this Falcon Plus Model, Su-Kam uses the most advanced 44 pin microprocessor and it provides some extra benefits and smart features which we have not seen before in Home UPS systems.
# Compatibility with Solar panels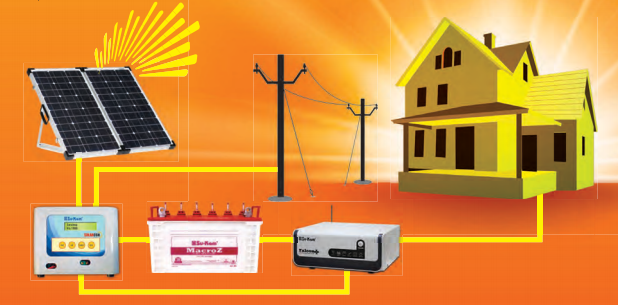 We tested it with solar panel and solar charge controller and satisfied with the results.
It is 100% compatible with solar panels, which means we can convert it to advanced hybrid solar inverter by adding solar panels and automatic solar charge controller to it.
In case you plan to buy it as a package, we recommend to buy Sukam solarcon 'solar' charge controller which is 100% compatible with falcon plus.
# How Sukam Falcon Plus enhances Battery Backup?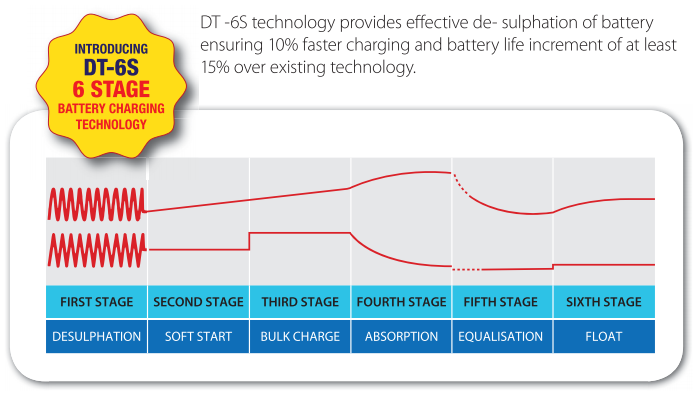 We noticed one advanced feature in falcon plus that eliminates the need for bench charge and De-sulphation for batteries, which could be done only in battery service centers.
In the long run, normally inverter battery plates will be covered by sulphate cystal, which stops the battery from operating to its full potential.

In Falcon Plus, Sukam Introduces a 6 stage charging Technology which removes the sulphate cystal formation on the battery plates which ensures optimum battery performance and prolong battery backup.
This is very useful feature as we cannot frequently carry our jumbo sized battery to the battery service center for de sulphation.
# Full Battery charge with 90 V
In india, we cannot guarantee perfect power supply in every location. In most areas we face low voltage problem and we don't even get enough voltage to charge our inverter battery.
A typical inverter will require minimum 130 volts to charge the inverter battery to its full capacity.
Sukam claims that Falcon Plus will require only 90V to charge the battery to its full capacity, which is very useful for consumers with low voltage problem.
# Comaptible with Desktop PC (Switch Over time – 8 Milli seconds )
Switch over time of a typical pure sine wave inverter in the market – 13 Milli seconds

Switch over time of Sukam Falcon Plus Home UPS – 8 MIlli seconds
Which is pretty much compatible for operating desktop PC'S without rebooting problem during power cuts.
We recommend this for browsing centers, Computer centers and educational institutes.
No need to buy separate UPS for your desktop PC.
# Wide Range of Battery support (18 Ah to 200 Ah)
We personally love this Feature which is truly innovative.
Su-Kam enables the facility of connecting a tiny battery of 18 Ah to a 900 va or 1100 VA single battery inverter.

Connecting a small battery to a big inverter is not a big deal here, but sukam falcon plus has an option to set up the charging current for small batteries, which is really a big deal.
Yes, it has a DIP switch at the back panel where we can setup the charge current preference for batteries from 18 Ah to 200 Ah.
This facility is really a boon for end users those who want very little back up time and don't want to spend excess amount of money in buying 150ah tall tubular batteries.
Now they can operate their gadgets with 900 VA inverter and 25 or 50 AH batteries according to their requirement.
Caution: Unless you are familiar with this DIP switch settings, Please avoid playing with switches.
# Some Questions to Su-Kam about Falcon Plus
Though we have listed out all positive sides of Sukam Falcon Plus, we also have few questions about some glitches that we found in falcon plus.
Sukam Falcon Plus inverter has no LCD display, which could be very useful in monitoring battery state and remaining backup hours.
The DIP switch at the back panel provides lot more access for an end user to control the battery charging scenario of the inverter.
But more than 90% of end users don't know how to operate this switch. What happens if they select high voltage setting for a low power battery like 25 Ah battery. It would result in battery failure.
The advanced facility which is supposed to be a Boon would become a curse to that particular user.
We strongly recommend Su-Kam to put a plastic cap on this DIP switch at the back panel and limit the access to trained professionals only.
Also when we recommend battery below 60 Ah, we need to tell the customer that it should be a deep cycle battery, otherwise people will go for cheap automotive batteries, which would not last long for inverter applications.
Why 700 VA, 900 VA and 1100 VA models don't have MCB at back panel?. MCB is provided only in 24V double battery inverter model Falcon Plus 1600.
Product is not available online
# Availability
For now, Falcon Plus is not widely available with all su-kam dealer outlets throughout the country.
I believe, in three months it will be available on all online stores and su-kam dealer outlets.
In metros, Falcon plus is already available in selected dealer outlets.
# Price point of Falcon plus
Price point of Su-Kam falcon plus is on the higher side. But we clearly understand that such an innovative product will not come for a cheap price.
For now, we can give guideline price of Falcon plus for our readers.
Simple idea to guess the price falcon Plus
A 900 VA falcon plus inverter would cost 1000 rupees more than a normal 900 VA pure sine wave in the market.
Which means
Luminous zelio 900 VA – Rs.4500

Falcon Plus 900VA would cost around Rs.5500 to 6000.
(In some states, price would be more than Rs.6000, which depends on the transport cost and tax)
# Conclusion
Undoubtedly, Sukam Falcon plus is the most advanced model in the Home UPS segment. Even though it is little expensive compared to other models in the market, it is worth to go for Falcon Plus if you need the best inverter in the market.
Hope this long Review Helps! We will come up with more details about falcon plus and comparison chart with other inverters. Also best battery combination ideas for Falcon plus.
---
Drop your comments and share your experience about this mode, Which would help other readers to decide on this.